Bio-Hotel Restaurant & Café Saline
Wilhelmsglücksbrunn 1
99831 Amt Creuzburg
Phone: +49 36926 7100320
E-Mail: biohotel@wilhelmsgluecksbrunn.de
Send Us an E-mail
Do you have a general question or would you like to learn more about our offer? Please do not hesitate to send us an e-mail.
Arrival by car
Freeway A4 exit Eisenach-West (39a). At the traffic circle, take the exit (im Krauthäuser Loch/B7) towards Creuzburg/Kassel. Then pass two more traffic circles and follow the B7 towards Creuzburg for about five kilometers. Just before Creuzburg, turn left at the Wilhelmsglücksbrunn junction. From there it is still about 1.5 km to the Stiftsgut.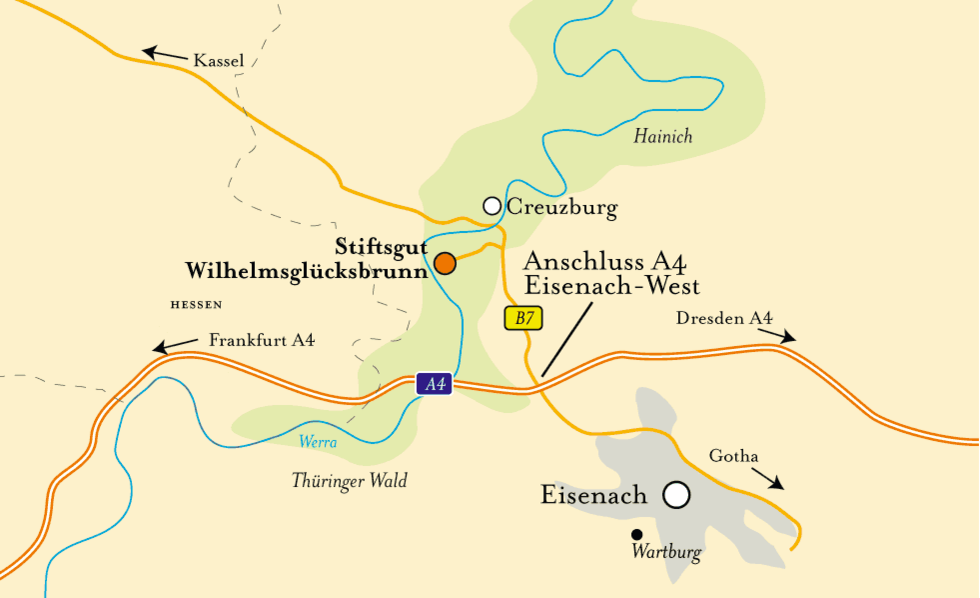 Approach by public transportation
If you arrive by public transport, take the train to Eisenach. Here (www.kvg-eisenach.de) you can find the timetables of the regional transport. You take bus line 170 or 75 to Creuzburg. From there it is about 2.5 km to the Stiftsgut.